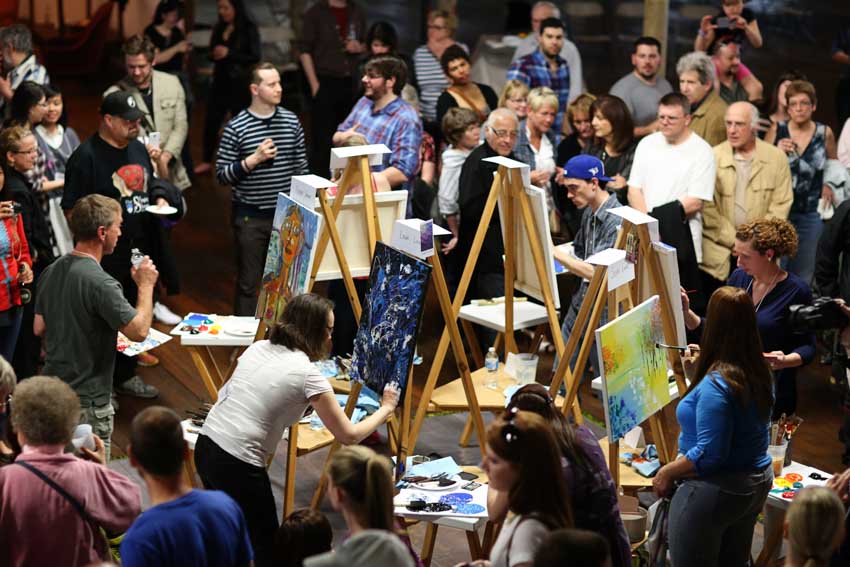 On May 10th, 2014, we had an incredible event that seemed to start and finish in a flash. The event was known as Art Battle Day–an across the country celebration of local artists participating in a live painting competition.
From Vancouver to Charlottetown, Yellowknife to Toronto, over 15 communities across Canada were chosen by the official Art Battle organizers to host an Art Battle event in their city. We, lucky enough, got to host the local, Hamilton Art Battle Day event to showcase local artists going head to head in a live painting competition.
The evening was an exhibition of amazing artistry from a mix of training backgrounds and painting styles.
The artists that participated in the event included: Round 1:
Samantha Coppolino
Patrick Carson
Round 2
Caillin Kowalczyk
Julie Richards
Impressively, as the audience walked around the artists in a "slow tornado", they had only 20 minutes to create their art from start to finish!
The evening was filled with high energy and suspense. The audience and the media agreed, the works of art were remarkable, as noticed in the many tweets, posts on Social Media and article & video summary shared by The Hamilton Spectator seen below. (click picture to view)
The competition was fierce, with round winners being determined by audience vote. In the end, the winner of Art Battle Day Hamilton at 270 Sherman was Anthony Haley! As the winner, Anthony will represent Hamilton in the Regional competition in Mississauga on June 17th. There, Anthony will compete among other artists fro a chance to paint at the Art Battle 2014 National Championship held at Mattamy Athletic Centre at the Gardens in Toronto.
270 Sherman gives a very honourable mention to Earls Court Gallery, located on Ottawa Street, for sponsoring the paint and canvas supplies the artists used to complete their works. Thank you also goes to Detour Coffee Roasters for serving coffee and tea to guests, DJ Devon Craig for spinning tunes into the late night, Smokestack Studio for providing graphic art design help, and Brian Reilly Photography for capturing the special moments. See all photos here.