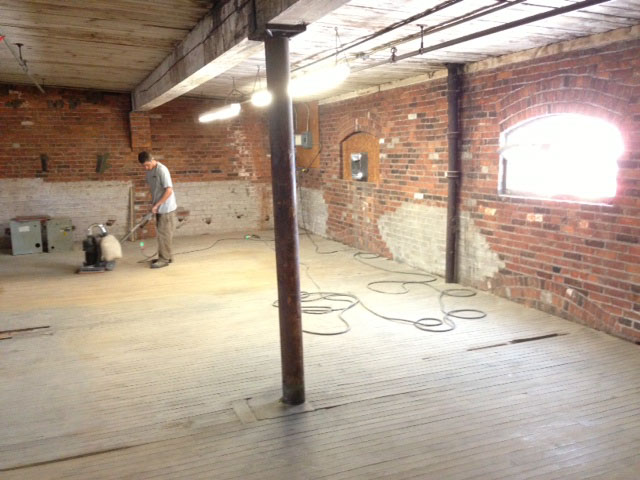 We have some great news to share! 270 Sherman has a new studio arts building under development and are looking for artists to occupy it!
The Storehouse building is a rustic area of the complex with exposed brick interiors, hardwood floors, unique half moon shaped windows, and original sliding fire doors that are all filled with historical clues of its Cotton Mill past life. ??The once raw cotton storage space used to have train stop at the door steps of the building from the TH&B rail line to unload the raw cotton that would later be processed here to make the heavy duck material for sails and awnings, etc. Elements of the cotton mill's history, such as the original scale, freight elevator and staircase still exist, and new improvements such as heating and air conditioning will be added to maintain a workable environment to tenants.
 Storehouse Floorplan
Above is the floorplan for the 2nd Floor Storehouse renovation. The space is currently one large open warehouse, approximately 4,700 square feet. The plan is to split the space into multiple units, with a central corridor. The plans are still flexible and the square footage for the spaces can be modified to be bigger or smaller to fit a tenant's size and budget needs.
Availability for the units begin September 1st, 2014.
Amenities for the Storehouse building include a common area kitchenette on the 1st floor, shared washrooms on both floors, and a fright elevator for 2nd Floor access. The rentals include heat and hydro, and you can opt-in for AC at an additional charge. Of course all rentals at 270 Sherman come with our amenities – free parking, call box front entrance with directory listing, access to a personal mailbox if required, etc. Check out our Leasing Page to find out all the details about our rentals.
Unit prices are approximately $10/square foot.
Contact leasing@270sherman.ca or 905.546.8256 to book an appointment to view the space! If you are interested in renting one of these spaces, please inquire today, as we will only be building to suit (i.e. we won't build it until they come!).
Storehouse Unit Details
Features of the Storehouse Building