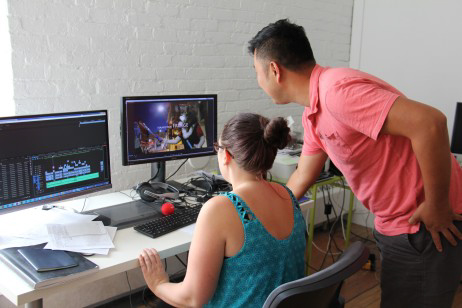 From July 10 to 26 Ontario hosted the largest multi-sport games ever held in Canada. Hamilton became host city to one of the Games most popular sports: soccer.
The Pan Am Games were more than just about the games, it also participated in some amazing cultural programming. Cotton Factory tenants Verity Creative were contracted by Pan Am to produce a number of short videos showcasing some of Ontario's Everyday Ambassadors.
We met up with Verity's Creative Director, Rhiana Ehara and Director of Photography, Kaz Ehara to learn about their work with the 2015 Pan Am Committee.
When did you begin working on the Everyday Ambassador video series?
We met with the team at Pan Am (TO2015) beginning in October 2013, then we designed the project, pitched it, shot the first video pro bono, and we were officially commissioned in April 2014. We finished shooting in March 2015, and edited, subtitled, mixed and graded right up to the end of June. It has been a long project – a project of love.
What were your goals when building the stories?
Our goal was to tell real stories from people who immigrated to Ontario, outside the cliches that often come up when discussing the diversity that we are fortunate to have in this province.
How did you pick your featured subjects?
The way I designed the project had a lot of restrictions: people born in another Pan Am country who reside in Ontario, who work in art or culture, and whose work reflects both of their cultures in some way. We also worked very hard to find people who live in various parts of Ontario, outside of Toronto. I tried to choose people who were willing to be open and vulnerable, and we worked for months to create relationships with these people – going to their homes, spending time with their families, observing their work and their lives. Now we count them as friends. To find participants, I contacted all of the Arts Councils, Latin and Caribbean community groups, and reached out to all of our Pan Am contacts' networks, contacts at Maclean's and the Toronto Star, and beyond. My search history on Google probably looks pretty weird.
How long have you been doing work in video production?
We began to work in video about 4 years ago, but before that we worked in documentary and commercial photography for 10 years.
What are you currently working on?
We are working on a project for Hamilton Fringe, an organization we love that does so much good in Hamilton. We are also making our own film about families with Type 1 Diabetes; a subject we know very well because our 5-year-old daughter has the disease. We are always looking for new projects that fit into our niche: people-based, narrative-driven, and meaningful.
To view  Everyday Ambassadors and to see other work they have created for clients, visit their website at http://www.veritycreative.com
BIOGRAPHY'S
Kaz Ehara is an award ­winning photographer and videographer, and Director of Photography at Verity Creative. He studied Journalism at Kansai University and the esteemed Photojournalism program at Loyalist College. Kaz is a past recipient of a National Magazine Award, and the Natori Yonosuke Award for JapanÂ's most prominent photojournalist under 30, in part for his deeply moving project, Lost Memories, that depicted his grandfather's decline into Alzheimer's Disease.
Rhiana Ehara is Creative Director of Verity Creative and is responsible for content creation and scriptwriting. After studying International Relations and East Asian Studies at the University of Toronto with the intent to become a diplomat, she found her true passion in building bridges between people through storytelling. She has lived in Hong Kong and Australia, and contributed
to a variety of national and international publications as a freelance writer, winning a silver medal at the National Magazine Awards in 2007. She speaks English, French, Japanese, Cantonese and Mandarin.