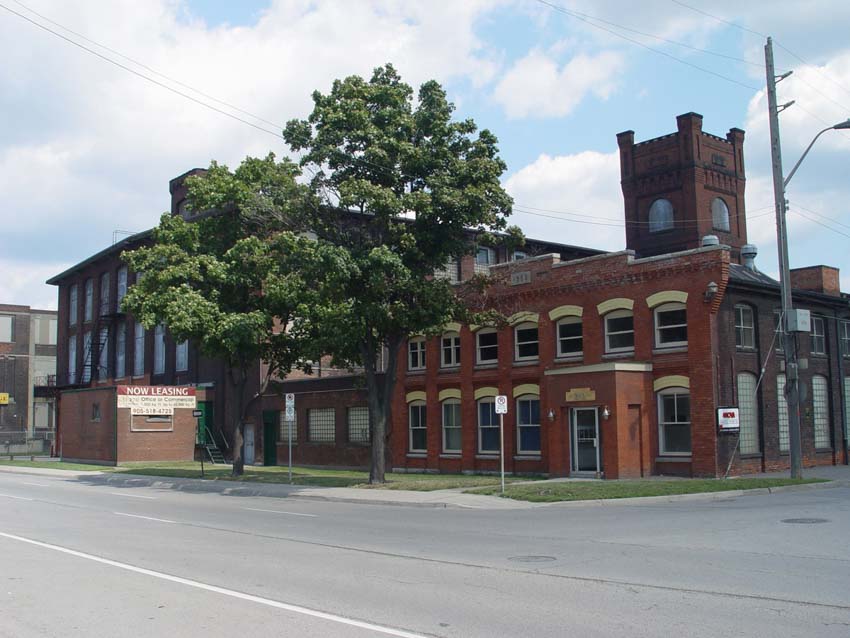 Event-hosting adds joie de vivre to reborn industrial buildings
HAMILTON – Special to The Globe and Mail
When producer John Smith was scouting venues for a promotional video shoot for the rock band Born Ruffians, he chose a 1900-era former cotton textile factory in the shadow of this city's once-iconic steel mills.
No wonder.
The 165,000-square-foot, red-brick industrial building radiates shabby-chic charm, with a clock tower, natural light from oversized windows, 18-foot ceilings, thick exposed beams and wooden floors. "It is hard to find an indoor space that has so much room to move about within it," says Mr. Smith, a partner in Hamilton-based Fanatic Creative Inc.
The building at 270 Sherman Ave. N., renamed the Cotton Factory after its purchase last year by developer Robert Zeidler, is undergoing a 21st-century makeover geared to creative industry tenants and special event space. The transformation illustrates the potential of some industrial buildings – another is Toronto's iconic John Street Roundhouse where Steam Whistle Brewing combines a beer-making facility and an increasingly-popular event space – to generate revenue during, and after, traditional office hours.
"That folks are looking at a hybrid of office and event space is great, "says Chris Markovic, director of marketing and market intelligence for Colliers International. "There is a small but consistent market throughout the GTA [Greater Toronto Area] where you see these types of conversions."
Such makeovers are not for everyone.
"Most landlords would not want that kind of setup because there is no commitment, long term, from the [event space] tenant," says David Bergeron, managing director of the Toronto West office of Cushman and Wakefield Ltd. "There is a market, albeit not huge; it is very situational, very specific and unique."
But those characteristics appealed to Mr. Zeidler. "I was trying not to seem excited," he recalls of his first look at the building he purchased for $4.75-million. "But I was going 'Oh my God, it's perfect."
The building already had a core of arts-oriented tenants, including film companies, artisans and galleries. Paradoxically, it was 40 percent vacant with a 70-tenant waiting list.
Over the past year, Mr. Zeidler has renovated the building (now almost completed rented) to enhance its profile as a creative arts hub, with a new a third-floor "co-working space" for short and longer-term lease. Up to 10 percent of the building is available for special events – day or evening, weekday or weekend – including weddings, fundraisers, film and video shoots and celebrity chef dinners.
"The key for me is first to build your event space or at least designate it, and then build around it," Mr. Zeidler says. "What you donÂ't want to do is lease most of the space in your building and then say, 'Oh gosh, we need an event space and put it here in an unrentable space."
The same event space can be leased multiple times in a 24-hour cycle. For a fee of $1,400, Mr. Smith's firm shot the Born Ruffians album promotion over 14 hours in a 10,000-square-foot corner of the Cotton Factory's third floor, spacious enough for six different sets. At other times, the space is rented for movie or television shoots, rehearsals by an aerial arts troupe or evening fundraisers.
"The perfect event space for me is one where a conference is there during the day followed by an event in the evening and the next day is a movie shoot," Mr. Zeidler says. "It has about four or five uses which are constantly cycling through."
A similar community-friendly philosophy guides the management of event space at Steam Whistle Brewing, which occupies 14 of 32 bays of the former railway roundhouse, a heritage, city-owned property in downtown Toronto. In 1999, as a condition of the lease, the brewery agreed to provide a hospitality component.
What that would look like was unclear. Initially, potential restaurant investors were leery of the then-remote location.
"I had to have pancake breakfasts to get taxi companies to come here to figure out how to get to the site," recalls Sybil Taylor, communications director for Steam Whistle and wife of Greg Taylor, one of the brewery's co-founders. "You can't imagine how dead it was."
In 2001, a chance request to use the venue for a corporate event and, later, a wedding laid the foundation for transforming the non-brewery area, including a beer hall with 30-foot ceilings and Douglas fir beams, outdoor patios and a second-level reception area, as a people-friendly destination. Through word of mouth, Steam Whistle built a steady flow of event business that boosts its national profile.
"We are really trying to be part of the community and not just be a beer factory," Mr. Taylor says.
At Steam Whistle and the Cotton Factory, event space is integral to the business strategy, not an afterthought. Similarly, say company spokesmen, the curating of events cannot be left to chance.
At the Cotton Factory, Mr. Zeidler hired Annette Paiement, formerly with the Art Gallery of Hamilton and Harbourfront Centre in Toronto, as director of film and events. "She knows how to make them [events] happen and she knows how to build a buzz," Mr. Zeidler says.
One recent success was a series of celebrity chef dinners organized by Pop Up Hamilton and held during July and August in a former rubble-filled outdoor courtyard at the Cotton Factory.
At Steam Whistle, employees receive training in the history of the roundhouse (and beer making) to ensure an entertaining experience for visitors.
"We started the event space with a goal that when people visited the brewery they enjoyed the experience and walked away with a smile," Mr. Taylor says. "Eventually, it became a more mature event business by making sure we were taking care of clients."
Back at the Cotton Factory, as a user of its event space and a native of Hamilton, Mr. Smith is thrilled with the building's transformation. "It is a testament to what the city is undergoing, and that is a creative revolution."
By the numbers
At the Cotton Factory:
63: Number of tenants, with most in the creative arts sector
$10: Average cost per square foot to rent a studio unit
$1,200-$2,000: Daily rate for events, depending on space needed
At Steam Whistle Brewery:
227: Number of confirmed events for 2015
141,000: Number of annual visitors, compared with 3,500 when the brewery opened its retail store
45 percent: Portion of visitors who come just for events