In February, we opened the doors of  CoWork at the Cotton Factory. In just a short time we have welcomed a number of creative entrepreneurs, non-profits and socially conscious start-ups to work with us.  As we plant the seeds required to build a sharing community and grow our business,
we have had the opportunity to meet and work along side some amazingly creative people who are both literally and figuratively planting seeds.
Together we learn,  build and inspire.
Grow A Seed is a new socially conscious start-up which recently joined Cowork at the Cotton Factory.  They are innovative, inspiring and dedicated to making a difference in the world!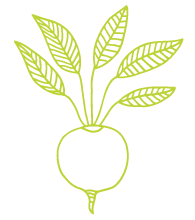 What inspired Grow A Seed?
We believe growing your own food can change the world.
As Canadians with those harsh winters, indoor growing was the place to start. We began with
microgreens, one of nature's nutrient-dense superfoods and discovered how easy and fun it was – something anyone could do.
We took what we learned, packaged it into a simple kit and made it a shareable experience. Our microgreen kit would be an introduction to growing. It would inspire people to take action and ownership of their health and be a beautiful catalyst for reconnection to nature and hands-on learning.
What has the process of recruiting a team and launching the business been like?
To launch, we needed business and marketing experience. Mostly, we needed alignment with our core values. We turned to family and friends and built a tightly knit team of creative visionaries passionate to be agents of change.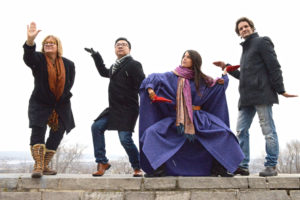 What is their background?
Our 5 core partners cover a lot of ground with unique backgrounds and diverse skill sets. Our team has
built businesses, created award-winning designs for the world's largest brands, produced television
series and documentaries, done extensive work in the education sector with international teaching and
led development projects in distressed communities around the world. You can say, we're a talented and eclectic group that's passionate about making a positive impact in the world.
What is the shared vision of the team?
We want to make growing accessible to everyone. Everywhere. No excuses. We want to help everyday people kickstart their health as they work toward a sustainable lifestyle. Through developing simple and effective growing solutions based on our own shared experience, we want our products and services to help others learn about nutrition, the art of growing and the power of food.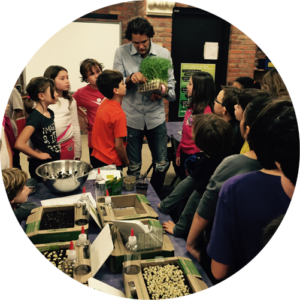 How Can the Kit be Used?
Our kit has the bandwidth to go to a lot of places and do a lot of different things. We call it our box of infinite possibilities. Here's where we'll start.
Personal Growing   
We help people discover the magical, transformative experience of growing.
A Family Activity
Getting the whole family involved is a lot of fun that earns super-parenting points and teaches kids great nutrition.
Fundraising
Our innovative fundraising program is an exciting solution for schools and service clubs – a no brainer and so much better for you than those chocolate covered almonds!
Promotion
We ramp up sharing with our white-label option. Our co-brandable boxes let companies and organizations identify themselves with the growing revolution.
Learning
Inspiring the next generation of environmental champions is a core mandate. Our Groove & Grow program is in schools getting kids re-engaged in their health through hands-on education that makes organic food and environmental stewardship an integral part of learning.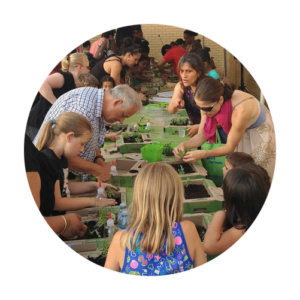 How did you source local manufacturing partners?
We're proud to say that most of our kit components are designed and manufactured locally.
We aim to work with environmentally conscious materials that are safe for employees, communities and
consumers and to have our processes be non-polluting and conserve energy and natural resources.
What are your selling features?
Thanks for asking! We've put a lot of thought into our kits and we're proud them.
First of all, they're lovely. Beautiful design is part of everything we do – and intrinsic to wellbeing. We see how beauty touches people, creates change and makes our surroundings and our world better.
The kits are simple, easy to use and low tech – an intentional counterpoint to the world around us.
Growing slows us down, keeps us grounded, connected to nature and our health.
We've set up a seed subscription program that introduces you to lots of exciting and delicious new varieties of microgreens to help you grow all year round.
Our Grow a Seed urban farmers can expect lots of support from our online tutorials. We also set up connections to others involved in urban agriculture and the local food movement. We're building a strong global community of growers to promote local urban food production, further our collective knowledge, and transform our eating and consumption patterns.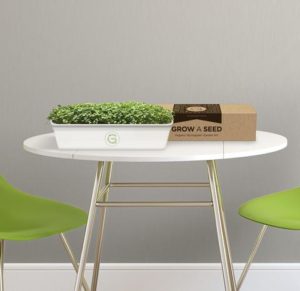 Where are you with development?
We're already developing products that will help people expand their indoor growing options. We're especially excited about our smart garden wall.
When can people start to order your product?
Garden kits will be available online at GrowaSeed.garden by the end of July 2016. We're also taking bookings for our GROOVE and Grow Corporate Wellness and School programs for Fall 2016. You can check it out at GrooveandGrow.com.  So much going on – so exciting!