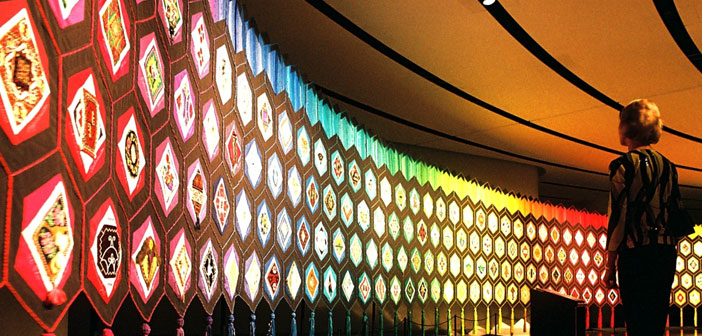 There's been quite a lot of chatter and excitement in anticipation of this summer's Canada 150 celebrations and we couldn't agree more! In partnership with the Heart of Ontario we are counting down the days until the third floor of the Cotton Factory is transformed into one giant quilt of belonging.
The Quilt of Belonging is a celebration of the many cultures and stories that make up this great country. It's a mosaic – just like us. It's a representation of the people that call Canada home.
In a time where the political landscape seems to be focusing on the differences between people, the Quilt of Belonging puts the focus back where it belongs. Yes we are different…but this is where our strength and beauty lies. The richness is in the colourful mosaic that this country is comprised of – it's in the thread which connects us all!
The Quilt of Belonging is a striking 120 feet in length (36 metres) and is composed of 263 blocks, each portraying the rich cultural legacies of all the First Peoples in Canada and every nation of the world at the dawn of the new Millennium.
Over 1.4 million visitors have seen the Quilt and beginning on July 11th, you're invited too! Each and every day between July 11th and August 16th you can choose from a multitude of exciting and enriching events and workshops. Everything from yoga to candle making, dance and art workshops to traditional arts and crafts, there is literally something for everyone. And if that's not exciting enough, be sure to mark your calendars every Friday and Saturday night for live music by amazing local groups and artists such as Tom Wilson, Diana Panton, Iskwé, Logan Staats, Jennifer Budd, Dan Edmonds, The Vaudevillian, Diamond D.J Collective, Bonga & the Vodou Drums of Haiti (Rufus Cappadocia) and more! (Seriously, I told you it's going to be awesome!)
It's important to make a mental note that as most workshops have a limited number of attendees, you will want to register in advance to ensure your spot. You can find the links to all of the workshops here.
We will keep you posted as to when the tickets for the Friday & Saturday concerts go on sale, I promise. It's just too exciting not to share!
Oh, and I think I forgot to mention that admission to the Quilt of Belonging is free. That means you + your sister + your work pal + your kids + your…you get the picture – everyone can come!
So, grab a pen and mark it on your calendar:
From July 11th through August 16th you just won't be bored. End of story.
Check back soon for more live links!
**The Hamilton Halton Brant Regional Tourism Association (The Heart of Ontario) and The Cotton Factory are seeking energetic, highly motivated, customer service-oriented volunteers as ambassadors, event assistants and Quilt Exhibit Guides to support demonstrations, workshops, talks, live music and concerts.
For more information contact, Sue Vattay, at volunteers@theheartofontario.com or register on line at https://goo.gl/forms/GArmslrNhUcKhpyv1