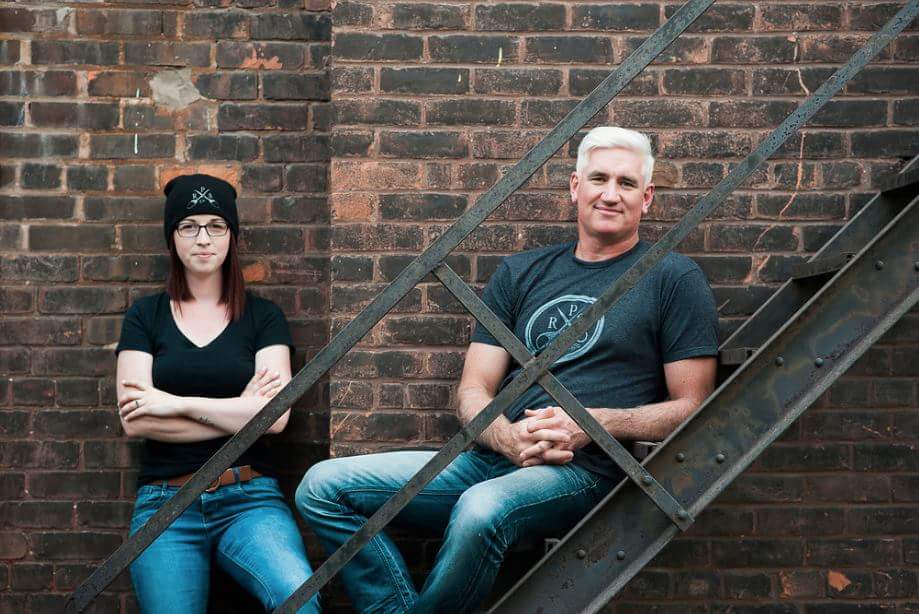 If you've ever driven down Sherman Avenue North (on your way to the Cotton Factory of course) and happened to turn down Landsdowne Avenue, you've likely noticed the red muskoka chairs sitting peacefully outside of three giant green doors, where the landmark smokestack towers over what appears to be a workshop or garage. One might even take a moment to imagine what it would be like to rest a while in those red muskoka chairs.
Meet the lucky tenants of that wonderful space – Rock Paper Scissors Company (RPSCO) – a husband and wife carpentry/artist duo. Though Kelly and Andy Warne have been at the Cotton Factory since June of 2016, they've been busy creating, building and designing unique, handcrafted pieces for over five years. You might have even seen their creations in one of the local artist shops that the couple operated for over two years or in over twenty five stores across the country. Their one of a kind furniture, lighting and commercial decor can be found in over twenty restaurants in Southern Ontario.
Maybe you've wandered around the premises of the Cotton Factory. If so, chances are you've seen Kelly and Andy's delightful girls – Emjay and Georgia – who mom and dad hope will be artists themselves one day. But RPSCO wasn't always calling the Cotton Factory home base. While on a hunt to find an artist studio that could accommodate all their carpentry needs, they just so happened upon this 117 year old cotton mill. Who can deny an old building that carries with it an unspeakable charm with both its known and unknown history and fascinating architecture? Not Kelly and Andy of course. Even with what (at the time) was a forgotten truck garage, they were enchanted and it didn't take long for the two to begin planning their future here. They shook hands with Rob and Laura Zeidler right then and there and the rest…is history!
When Kelly and Andy aren't busy building one of a kind pieces, they spend their time supporting other local artists, events and offering unique workshops. Yep – the workshops are held right inside that old truck garage turned well-loved studio! With a focus on children and women, Kelly and Andy provide a safe and supportive space to learn basic woodworking skills by instructing and assisting in the creation of a take home piece that the participant can carry with them throughout their entire lives. But that's not all, RPSCO's Everyone Can program offers space for one child or one adult in each class, who is facing difficult life challenges and might not be able to afford the workshop, the take it for free. Everyone Can participants are kept anonymous at all times and only a short application process is all that's required to apply.
Though the smoke stack looms atop the RPSCO studio, there's nothing ominous about the space or the wonderful people who inhabit it. And, just as those prominent muskoka chairs suggest, Kelly and Andy are two very relaxed people and RPSCO is as natural a company as their handmade sign says.
For more information on Rock Paper Scissors Company and their workshops visit their website here:
www.rpsco.ca