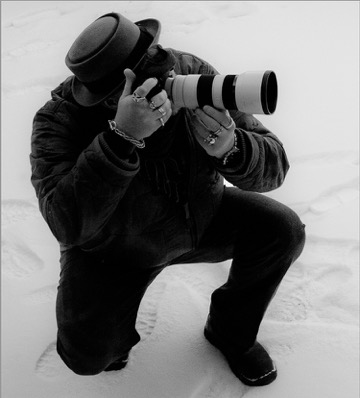 For Derrick Vanderkolk of Style Group, becoming a photographer wasn't as obvious a choice as those close to him might have predicted. Though, with both his father and uncle being photographers and close family ties to the fashion and film industry, it didn't take long before photography found him – or, until a camera was tossed his way!
After four years in the Canadian Military and without a strong pull in any certain direction, Derrick's dad handed him a loaded Nikon F2 film camera and told him to "shoot anything that interests you"- so he did. Upon finishing his 'assignment' Derrick returned the camera to his dad and forgot about it for quite some time…that is until Derrick was busy preparing for a short trip to the Netherlands. The phone rang two days before his scheduled departure and a voice on the other side of the phone informed him that he had been accepted to Sheridan College's Applied Photography program! "It took me a minute to realize my dad had submitted an application on my behalf using the images he had commissioned from me months before."
Today, Derrick's business, Style Group offers Photography & Videography services (including weddings, fashion, portraits, commercial, food, special events & more) as well as Special Event & Ongoing Social Media Management where they specialize in not only developing unique social media content but also a customized social media strategy.
A self-pronounced "new kid on the block" here in Hamilton, Derrick worked for nearly two decades around the GTA shooting for projects like Martha Stewart Living, Sears Whole Home, the LCBO and House & Home (just to name a few). Becoming a tenant of the Cotton Factory in 2014, Derrick refers to his studio as "an amazing space in one of Hamilton's most historic buildings working with some the coolest cats around!"
What inspires Derrick to keep going?
"This is a complicated question for me; on one hand I do it to have a creative outlet so I can express myself, but also to keep a fresh perspective on how I see the world around me. It's an honour for me to capture incredibly special moments for people and to help create memories for a lifetime. I think because I am able to go the nontraditional route, this translates to a more authentic capture that my clients seem to appreciate."
One of his favourite quotes?
"Don't shoot what it looks like, Shoot what it feels like."
– David Alan Harvey
Check out some of Derrick's work by visiting the Style Group website at www.stylegroup.co and stay tuned for a website revamp!
Like the Style Group Facebook page here: https://www.facebook.com/stylegroupDVK/
Follow Style Group on Instagram: https://www.instagram.com/stylegroupphoto/
Email Derrick here: derrick@stylegroup.co