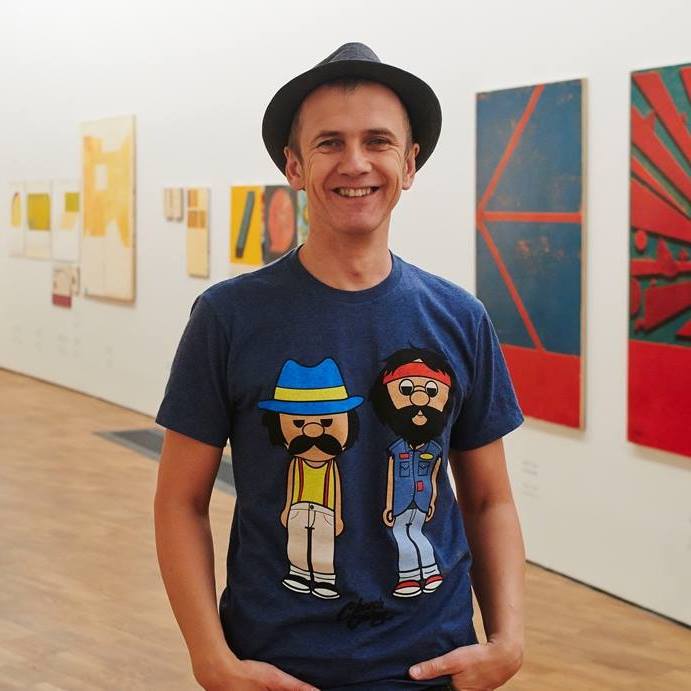 In partnership with Hamilton Artists Inc, we are thrilled to have Marko Mäetamm of Estonia, joining us here at the Cotton Factory this November as part of the new Artist in Residency Exchange program!
An incredibly active artist on the Estonian art scene, Marko's mediums of focus include drawing, painting, video, graphic design and much more. Having participated in several high calibre international exhibitions and frequenting galleries in the USA, London and Vienna, Marko's name has become quite well known around the art world. Moving between ideologies and styles – often combining pop with philosophy and humour with angst – Marko Mäetamm is impossible to define.
"It is difficult to find a topic that Mäetamm has not reflected upon: his range covers glimpses of the most ordinary and boring aspects of the lives of 'the little men', but also broader phenomena, such as religion or domestic violence. As usual, he tackles issues with a fair amount of irony. Throughout, Mäetamm's work also carries an element of performance – the artist and his body, like a central station for perceiving the world, become the central figures, projecting his own feelings onto a greater scale. As he is fully aware that his view of the world is unavoidably subjective, the artist grotesquely combines his introspections with fiction." (http://www.cca.ee/en/artists/marko-maetamm) 
With the re-establishment of Estonian independence in 1989 came a political and social upheaval that broke free from old Soviet restrictions and flourished under freedom of expression. Estonia's thriving arts scene has resulted in a blossoming of museums, galleries and arts hubs to showcase the resulting cultural outpouring.
You'll have an opportunity to get to know Marko at one (or all!) of the following events:
-18 Nov- 3:30 PM- Open Studio Artist's Talk- SH-236 in the Storehouse at the Cotton Factory
-22 Nov- 7:00 PM- HAC Echo Talk- AGH Annex
(click here for event link)
-23 Nov- 7:00 PM- Artist Talk- UrbanSpace Gallery at 401 Richmond in Toronto
"For me art means communication. I am interested in provoking dialogues and making people think outside their comfort zones and taboos. My work is about things I am concerned about in this world. It is a mirror of the present time – the only time that really exists." says Mäetamm.
To read a more in-depth interview with Marko visit this link:
http://www.arterritory.com/en/texts/interviews/3402-i_dont_want_to_be_funny
*
*
*
Further information about Hamilton Artists Inc and the Cotton Factory:
The Hamilton Artists Inc. Residency Program at The Cotton Factory provides a valuable opportunity for artists from a wide range of disciplines and career levels to build their practice. Launching in 2018, an annual juried artist exchange will commence between Hamilton, Ontario and Tallinn, Estonia.
The Hamilton Artists Inc.
Hamilton Artists Inc. (The Inc.) is committed to the presentation of contemporary art and related cultural practices. The Inc. facilitates a national dialogue surrounding issues in contemporary art through exhibitions, publications, performances, education and outreach projects.
The Cotton Factory
In the heart of lower Hamilton, this former cotton mill complex from 1900 is a prime example of adaptive reuse. The Cotton Factory has been transformed into a creative industries complex with space for workshops, studios for artists, small manufacturing and office space for creative professionals.