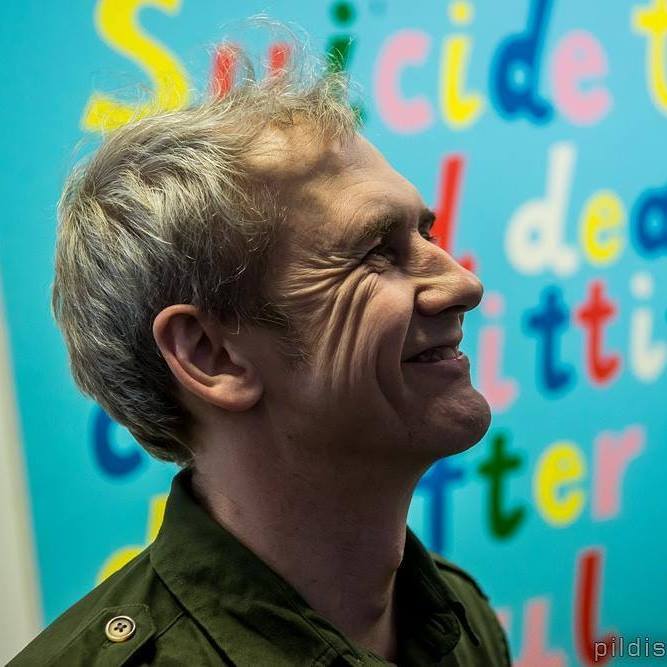 Marko Mäetamm joined us all the way from Estonia this past November as part of the Artist Exchange Program and we were absolutely thrilled to have him! Kicking his Hamilton stay off at his welcome gathering by hopping on the drum kit and inspiring many a conversation, Marko and I's first encounter is one that most would consider too embarrassing to admit. Put it this way – alas, the bathroom door was not locked! With a good sense of humour in my favour, I actually forgot that this was how we met until I sat down to write this excerpt.
Things became much more civilized as I ventured into his studio one afternoon during Shop the Cotton Factory. I'm not sure what I was expecting but nonetheless, I was surprised by the work that I found there. Marko's delivery is so obvious it's shocking. He takes stone-cold reality and moulds it into bite-sized chunks and displays his message there to provoke thoughts about daily life, some of which can be quite uncomfortable.
As I chatted at length with Marko about his work and his approach, a few passersby stopped in to take a look. I watched as they squirmed, flinched and walked out.
I guess reality isn't for everyone – it's a tough pill to swallow at times.
I had the pleasure of exchanging further dialogue via email with Marko Mäetamm following his stay and hope you will enjoy our interesting conversation about Marko's artistic beliefs and goals in his work.
For the full interview and to see photos of Marko's work, please visit the original post here.
Below are some highlights:
Carissa: You went to an Art Academy to study printmaking – a structured organization – and yet today, you seem to dislike "rules". Did you have any experiences whilst studying printmaking that challenged or developed your beliefs about art and rules in this area? Have you always believed rules to be a hindrance to the process of creativity, or has this belief system developed over time? Do you see any place for rules or structure in the process of art?
Marko: Surprising question. I never thought of myself as a person who dislikes rules. I think we all need rules in our life. Just like we need our body to get things done in this world. Or, like we need four walls around us to be protected from cold and to understand what is inside and what is outside. Without rules it would be an unimaginable mess. But, what I believe and what I think artists should definitely do is challenge the rules, bend them, extend the space and find some new territories. Use the rules creatively and stay in a critical position instead of simply following them.
Any organization needs to be structured and schools are definitely very structured organizations. I studied printmaking simply because I didn't know anything about painting or sculpture and thought printmaking is probably the closest thing to drawing which I knew a little bit about. It appeared to be quite technical of course but it did suit me well, and we had a lot of freedom to do what we really wanted to do. I don't think my years of being an art student or studying printmaking taught me to be critical about rules. It was rather like being in holiday for me after two years in the Soviet Army with all the most stupid rules one can ever imagine.
Talking about making art there are also tons of rules you need to keep in mind, stay critical about and try to break. If there were no rules – how on earth can you to achieve your artistic freedom?
For the full interview and to see photos of Marko's work, please visit the original post here.
If you're interested in applying to participate in the 2018 exchange visit the Hamilton Arts Council Facebook Page here.
CALL FOR SUBMISSIONS – EUROPEAN ARTIST RESIDENCY
The Hamilton Arts Council European Artist Residency provides a mid-career level visual artist from Hamilton, Ontario, the opportunity to create new works in the inspiring artist studio provided by the Estonian Artists Association in Tallinn, Estonia over a four week period in September 2018.
Application Deadline: March 2nd, 2018